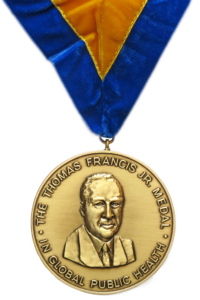 The Thomas Francis, Jr. Medal in Global Public Health is awarded to individuals who have contributed to the significant advancement of global public health through:
Major scientific discovery or invention.
Leadership in development, implementation, or promotion of effective public health policy, nationally or internationally.
Seminal support for the development or implementation of effective action that advances global public health.
Distinguished service in the promotion of global public health.
The medal is awarded once every three to five years. The medal is accompanied by a monetary award of $50,000 and the recipient is asked to deliver a keynote address at a symposium on a major topic in world health.
Recipients
The University presented the Thomas Francis, Jr. Medal in Global Public Health for the first time on April 12, 2005 to Dr. William Foege on the 50th anniversary of Francis' historic announcement that the results of the polio vaccine trials had proven the Salk vaccine to be "safe, effective, and potent." The medal was next given to Alfred Sommer in 2010 and Sir Fazle Hasan Abed in 2016. The medal will be given periodically to a recipient whose contributions have advanced global public health and helped to establish a healthier future for society.
2005 Recipient: William Foege
2010 Recipient: Alfred Sommer
2016 Recipient: Sir Fazle Hasan Abed