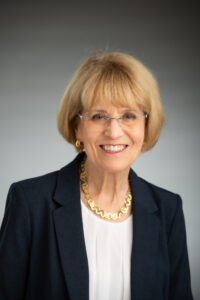 Mary Sue Coleman is president of the University of Michigan and president emerita of the Association of American Universities, which represents the country's leading research universities. She also is former president of the University of Iowa.
She was reappointed as U-M president in January 2022.
Coleman has during her career as a faculty member and administrator been a national leader in higher education. Time magazine named her one of the nation's "10 best college presidents," and the American Council on Education honored her with its Lifetime Achievement Award in 2014.
Throughout her career, she has promoted the educational value of diverse perspectives in the classroom and within the academic community, and she has worked in numerous venues to improve access to higher education for all.
At AAU, Coleman led landmark surveys conducted of 181,752 students from 33 colleges and universities regarding the prevalence of sexual assault and misconduct on campuses and on student attitudes about these issues. The results have helped AAU member institutions as well as other colleges and universities in their efforts to address the problems of sexual assault and other sexual misconduct.
As U-M's 13th president from 2002-2014, Coleman oversaw the groundbreaking partnership with Google to digitize the University's 7 million-volume library, launched enduring institutional partnerships with universities in China, Ghana, South Africa, Brazil, and India, revitalized student living and learning experiences through a residential life initiative, and worked tirelessly to promote economic revitalization and innovation within the state of Michigan.
In recognition of these efforts, Coleman was named by President Obama in 2010 to help launch the Advanced Manufacturing Partnership, and U.S. Commerce Secretary Gary Locke named her as co-chair of the National Advisory Council on Innovation and Entrepreneurship.
Elected to the National Academy of Medicine (formerly the Institute of Medicine), Coleman is also a Fellow of the American Association for the Advancement of Science and the American Academy of Arts and Sciences. In those roles, she has led major studies on the consequences of lack of health insurance within the United States and erosion of state and federal support for the nation's public research universities.
As a biochemist and faculty member at the University of Kentucky, Coleman built a distinguished academic career through her teaching and research on the immune system and malignancies. Prior to becoming a university president, Coleman was vice chancellor for research and graduate education at the University of North Carolina at Chapel Hill and provost at the University of New Mexico.
Coleman is a member of the boards of trustees of the Kavli Foundation, the Gates Cambridge Scholars Program, the Society for Science and the Public, and the Universities Research Association.
Coleman earned her undergraduate degree in chemistry from Grinnell College and a Ph.D. in biochemistry from the University of North Carolina at Chapel Hill. She holds honorary doctorates from a number of institutions including Grinnell College, Dartmouth College, Shanghai Jiao Tong University, Notre Dame University, the University of North Carolina, Indiana University and Michigan State University.
She is the recipient of distinguished alumnus awards from the University of North Carolina and Grinnell College. The Michigan Roundtable for Diversity and Inclusion honored her as Humanitarian of the Year, and the Michigan Women's Foundation presented her with its Trillium Lifetime Achievement Award.
Her husband, Kenneth M. Coleman, is a political scientist specializing in Latin America; he served as the Country Director for Nicaragua in the 2014 biennial survey conducted by the Latin American Public Opinion Project at Vanderbilt University. Previously, he was chair of political science and director of Latin American Studies (today Latin American, Caribbean, and Latino Studies) at the University of Kentucky, as well as professor of political science at the Universities of Kentucky, New Mexico and North Carolina-Chapel Hill. He has held Fulbright Lectureships in Mexico, Venezuela, and Nicaragua.
Downloads