About the Award
In keeping with the president's emphasis on the University of Michigan's public roles and obligations, and in alignment with our original mission and our ambitions for Michigan's third century, this award honors an individual who has provided sustained, dedicated and influential leadership and service in major national or state capacities. The recipient will have contributed to the health, resilience and prosperity of our nation, state and society at large, as well as our ability to contribute to a just and equitable global environment beyond what is expected or required of them from their scholarship and/or research.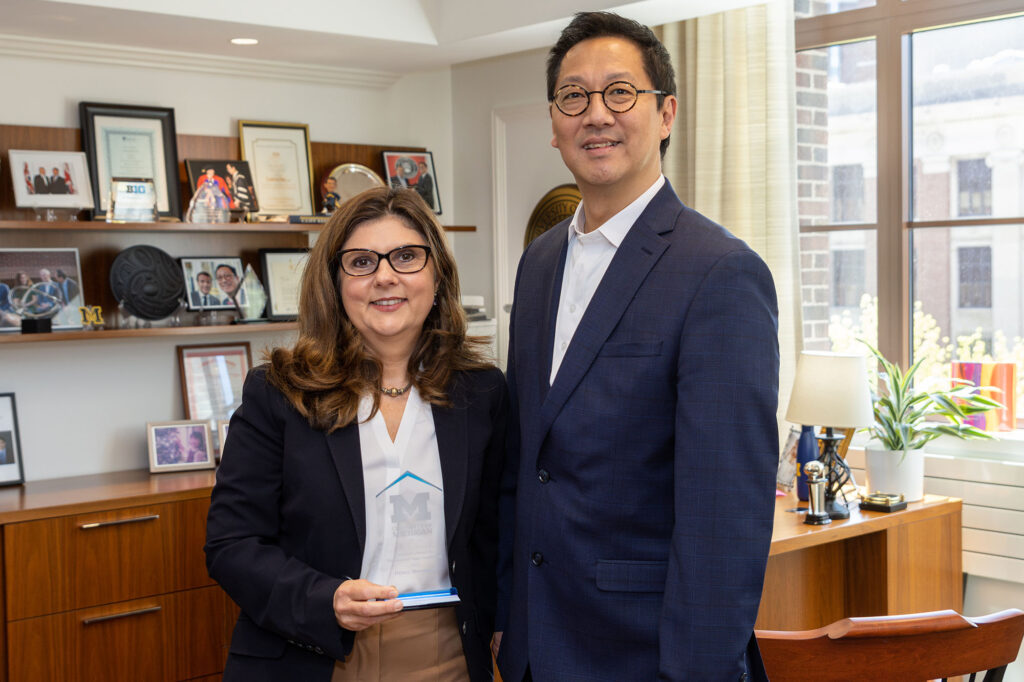 Eligibility
The award is open to tenure/tenure track or an individual research faculty member, among all U-M campuses, schools, colleges and units; a member of other categories of instructional faculty may also be nominated. An individual at all career stages are eligible.
A nominee should be someone who has carried out the mission of the university by providing extensive national or state leadership and service, voluntarily or through an Intergovernmental Personnel Agreement, with proven impacts on society at large.
The nominee should be serving, or have recently served, in one or more of the following ways:
Federal and state advisory committees.
Senior level fellowship positions at federal or state agencies or the Administration and/or Intergovernmental Personnel Agreement positions at federal or state agencies or in the Administration.
Service in other capacities of similar scope and importance will also be considered.
Nominations
Nominations for 2022 closed on Friday, December 9, 2022.
Nominations should include:
A concise case (maximum of 600 words) for the candidate and their particular appropriateness for this award, given the stated criteria.
An electronic link to an up-to-date curriculum vitae or résumé of the nominee.
The name(s) of the chief nominator(s), at least one of whom must be a U-M faculty member.
The names of at least three other U-M faculty, or other individuals with relevant knowledge of the case, who support the nomination and who would be willing to be contacted by the selection committee.
Selection
The awardees will be recommended to the President by a committee appointed by the President and consisting of members of the faculty and of the Offices of Research and of Government Relations. The same committee will make recommendations for the President's Award for Public Impact.
Inquiries about the award can be made to Kristina Ko at kdko@umich.edu.
Please note:
Use of the web form to submit your nomination is mandatory.
Self-nominations will not be accepted for consideration.
Members of the selection committee are not eligible to receive awards.
Content of nominations may be used for future award promotion.