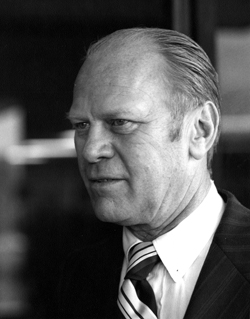 Over one thousand people have received honorary degrees from the U-M since the practice was adopted in the 1800s. In 1986, U-M President Harold T. Shapiro charged an advisory committee to review and make recommendations regarding honorary degrees conferred by the U-M. The Committee asserted the following:
"The overarching objective in awarding honorary degrees is to provide the University with an opportunity to associate itself and its values with men and women remarkable for their achievements or their potential, and by so doing to inspire students and others to recognize, to respect and to seek to emulate such persons and such accomplishments."
The entire findings are detailed in, Report of the Advisory Committee on Honorary Degree Policy (PDF), February 16, 1987, which today continues to serve as a reference and guide for the honorary degree process.
Honorary Degree Recipients
Honorary Degree Staff Contacts
Stephen Yaros, Sr. Director of Operations and Initiatives, President's Office; syaros@umich.edu, 734-764-6270
Emily L. Swafford, Assistant Dean, Horace H. Rackham School of Graduate Studies; swafford@umich.edu, 734-936-1647