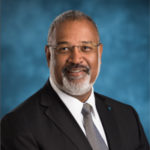 Provost and Executive Vice President for Academic Affairs
Dr. Philbert is provost and executive vice president for academic affairs at the University of Michigan. He is also professor of toxicology in the University of Michigan School of Public Health. He earned his Bachelor of Science degree in 1984 from the College of Arts and Technology at Cambridge, and his doctorate in 1987 from the London University Royal Postgraduate Medical School. He was awarded a postdoctoral fellowship in the Neurotoxicology Laboratories at Rutgers University from 1988-90. Dr. Philbert served as a research assistant professor at Rutgers' Neurotoxicology Laboratories until 1995 when he joined the faculty at the University of Michigan School of Public Health as an assistant professor of toxicology. He was promoted to associate professor in 2000 and to professor in 2004. He served as associate chair for research and development in the Department of Environmental Health Sciences from 2000-03. In 2004, Dr. Philbert was appointed senior associate dean for research of the School of Public Health, a position he held through 2010 when he was appointed as dean of the school. He was appointed as provost in September 2017.
Dr. Philbert maintained a continuously federally funded portfolio of basic research activities. His research has focused on the development of flexible polymer nanoplatforms for optical sensing of ions and small molecules and the early detection and treatment of brain tumors. Other research interests include the mitochondrial mechanisms of chemically-induced neuropathic states. His work has been funded by the National Institutes of Health, the Department of Air Force and the National Cancer Institute. He is the author of more than 200 peer- reviewed scholarly manuscripts, abstracts and book chapters.
Dr. Philbert served as the inaugural chair of the US-EPA Chemical Assessment Advisory Committee that provides peer review of risk assessments produced under the auspices of the EPA's Integrated Risk Information System and was a standing member of the Agency's Science Advisory Board. He also served a four-year term on the National Advisory Environmental Health Sciences Council of the National Institute of Environmental Health Sciences, served as chair of the US-EPA Board of Scientific Counselors, chair of the US-FDA Science Advisory Board, and provides consultation to federal agencies on a variety of issues surrounding emerging nanotechnologies, nanomedicine, health and safety.
Dr. Philbert is an elected member of the Institute of Medicine of the National Academies of Science (USA), a fellow of the Royal Society of Chemistry (UK), a fellow of the Academy of Toxicological Sciences (USA), a member of the Division of Earth and Life Sciences of the National Academy of Science (USA), the Committee on Toxicology of the National Research Council (USA).