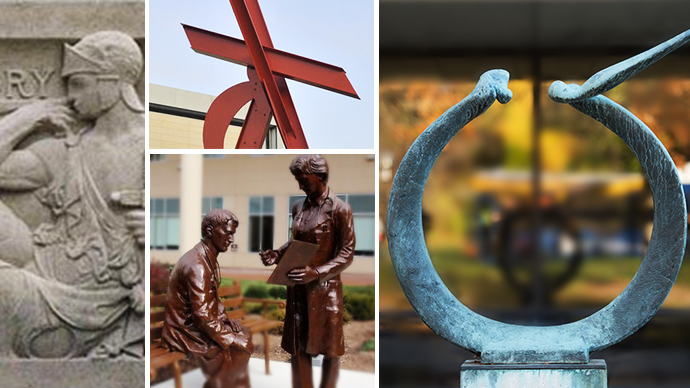 UPDATE: The President's Advisory Committee on Public Art recently engaged in a process to re-envision the University's approach to public art. In response to this process, the Committee's submission and review guidelines are currently undergoing revision. Until that process is complete, the Committee is unlikely to take action on any new proposals for public art. The new process and guidelines are expected in winter 2020. If you are considering submitting a proposal during this period, please contact Public.Art.Committee@umich.edu.
Overview
The University of Michigan, as an institution committed to learning, inquiry, and creativity, seeks to provide a rich and variegated campus environment in which members of our community can engage in these activities and be at home in spaces that are uniquely "Michigan." Public art can play a significant part in creating such an environment, an environment conducive to the development of mind, soul, and spirit by our faculty, students and staff. In this respect, the North Campus Sculpture and Public Art Program statement captures very well our guiding philosophy:
The University of Michigan's outdoor sculpture should be an integral part of the educational and research mission of the university. In addition, it should provide constant visual enjoyment and excitement for members of the university community, the city, and the region.
We wish to develop an approach to public art that will, over time, transform U-M into a university distinguished for its public art environment and that will link art more closely to expression of our academic aspirations. Toward that end, the President's Advisory Committee on Public Art was established to help guide our decisions and planning and to facilitate development of a richer and more diverse collection of public art.
Background
Although the University of Michigan possesses many fine works of public art, the public art environment on campus is neither as vibrant nor as engaging as befits a university of our stature and character. Public art at U-M has not been consistently developed in relation to our academic mission. Public art projects have generally been carried out opportunistically, typically in response to donor initiatives afforded to individual schools, colleges, and units. While this approach has resulted in a number of fine individual projects, it has not led thus far to a first-rate collection overall, in comparison with many peer universities. We have not developed a broad vision for public art in which works are sought for sites on campus that themselves form part of a broader plan. Neither has pursuit of art, as an expression of mission, been typically or consistently encouraged—although there have been notable exceptions.
Historically, public art efforts fell under the purview of the Exterior Elements Design Review Committee (EEDRC), which serves the University Planner in an advisory capacity on numerous outdoor design details but which has had relatively little focused specialization in the visual arts. More recently, the University Planner established the Public Art Review Group (PARG) to supplement the EEDRC's efforts, and this group functioned to review individual proposals from units. While PARG facilitated the placement of some fine works of public art on campus and provided an important review mechanism, it was not proactive in planning or in pursuing works of art, and indeed, lacked the mandate to do so.
As a result of these tendencies, artists of the first order were not adequately represented in the U-M's public art collection. The President's Advisory Committee on Public Art replaced the Public Art Review Group and, like the latter, complements the work of the EEDRC, while also adopting a more strategic and long-term approach to public art on campus. This is a standing committee.
Original Vision Statement for the Public Art Program (March 2007)