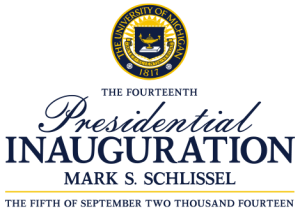 Inauguration day, Sept. 5, for President-elect Mark Schlissel will start with symposia on biomedical research and privacy at Blau Auditorium and end with a community welcome reception on Ingalls Mall.
The events will be wrapped around the formal installation ceremony for the university's 14th president, scheduled for 3 p.m. at Hill Auditorium. Most events are open to the public.
The formal inauguration will take place at the end of the first week of classes for the fall semester on the Ann Arbor campus. Schlissel officially takes over as president July 14. He succeeds Mary Sue Coleman who is retiring after 12 years at U-M.
The academic symposia will take place in Blau Auditorium at the Stephen M. Ross School of Business. The first runs 8:30-10 a.m. and will focus on "Sustaining the Biomedical Research Enterprise." Keynote speaker for the symposium will be Nobel laureate Dr. Harold E. Varmus, director of the National Cancer Institute and formerly director of the National Institutes for Health. A panel of U-M faculty members will join in the discussion that follows.
The second symposium, scheduled for 10:30 a.m.-noon, will explore "Privacy and Identity in a Hyperconnected Society." Keynote speaker will be Alessandro Acquisti, associate professor of information technology and public policy at Carnegie Mellon University who is an internationally renowned speaker and expert on the behavioral economics of privacy in social networks. A panel of U-M faculty members will join in the discussion that follows.
The installation ceremony at Hill Auditorium begins with a formal processional that will include hundreds of delegates from colleges and universities within Michigan, across the nation and around the world. They will join with members of the U-M Board of Regents, university deans and executive officers and U-M faculty members, as is tradition.
The featured speaker for the inauguration will be Ruth Simmons, former president of Brown University, and a mentor to Schlissel. Simmons served as Brown's 18th president from 2001 through 2012. Schlissel became Brown's provost in 2011. Following his formal installation, Schlissel will deliver the traditional President's Address.
A community reception on Ingalls Mall will immediately follow the ceremony at Hill. This more informal, outdoor event will serve as a welcome back celebration for students and give the university and Ann Arbor communities an opportunity to meet and mingle with President Schlissel, university leaders and guests from academia. Refreshments will be served and entertainment will be provided by student groups to celebrate the arrival of the new president.