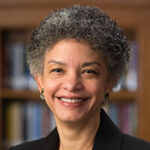 Susan M. Collins was appointed provost at the University of Michigan, effective July 16, 2020, following appointments as acting and interim provost. Collins is the Edward M. Gramlich Collegiate Professor of Public Policy, professor of economics, and former dean of the Ford School (2007-17). Before coming to U-M, she was on the economics faculty at Georgetown and Harvard universities and a senior fellow at the Brookings Institution.
She served a term as president of the Association of Professional Schools of International Affairs and as a senior staff economist on the President's Council of Economic Advisers.
Collins serves on the board of directors for the Federal Reserve Bank of Chicago and National Bureau of Economic Research and is a member of the Council on Foreign Relations.
She earned her bachelor's degree in economics from Harvard and her doctorate in economics from the Massachusetts Institute of Technology. Her research interests center on understanding and fostering economic growth in industrial, emerging market and developing countries.