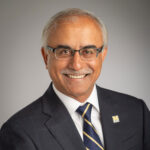 Chancellor, University of Michigan Flint
221 University Pavilion
Flint, Michigan 48503-2186
(810) 762-3322; FAX (810) 762-5725
Debasish Dutta, Ph.D., is the ninth chancellor of the University of Michigan-Flint. Dutta began his service on August 1, 2019.
Dr. Dutta is the former chancellor at Rutgers University-New Brunswick, where he was also a distinguished professor of engineering. He was previously the provost and executive vice president for academic affairs and diversity at Purdue University. Prior to that, Mr. Dutta served as associate provost and dean of the graduate college at the University of Illinois at Urbana-Champaign, where he was also Edward William and Jane Marr Gutgsell Professor and interim vice-chancellor for research.
Dr. Dutta began his career at the University of Michigan as an assistant professor of mechanical engineering in 1989 and moved through the ranks to professor in 2000. He earned a Ph.D. in industrial engineering from Purdue, a master's degree in engineering management from the University of Evansville, and a bachelor's degree in mechanical engineering from Jadavpur University in Calcutta, India.