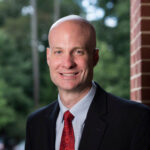 Interim Executive Vice President and Chief Financial Officer
3014 Fleming Administration Building
Ann Arbor, MI 48109-1340
(734) 764-7272
In addition to his interim appointment, Mr. Smith has served, and continues to serve, as associate vice president for finance beginning July 2019 where he oversees the university's central financial functions: accounting, externally audited financial statements, financial analysis, internal controls, payroll, procurement, risk management, sponsored programs, student accounts, tax, and treasury.  Prior to joining the University of Michigan, Mr. Smith served as a senior assistant vice chancellor and treasurer at the University of North Carolina at Chapel Hill. During his 15-year career at UNC, Smith also held the positions of assistant vice chancellor for finance and accounting, interim associate vice chancellor for finance, director of treasury and risk management services, director of treasury operations and university debt manager.
Before joining UNC, he held management positions at Wachovia Bank for 12 years.
Mr. Smith is a Phi Beta Kappa graduate of UNC-Chapel Hill with a Bachelor of Arts degree in economics.
As the interim EVPCFO at the University of Michigan, Mr. Smith is responsible for the general supervision of all finances, property and business of the University of Michigan. The EVPCFO oversees an organization comprised of 2,620 staff responsible for architecture, construction, operations and maintenance of 39 million gross square feet of facilities, parking and transportation; occupational safety and environmental health; utilities; human resources; staff ombuds office, enterprise strategic risk management, financial operations; and more than 12 billion in investments.