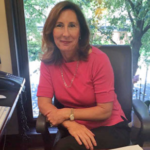 Executive Assistant and Chief Administrator to the President
Office of the President
The University of Michigan
3190 Ruthven Building
1109 Geddes Ave
Ann Arbor, MI 48109-1079
(734) 764-6270
Erika serves as the Principal Aide to the President on important administrative and operational matters and provides coordination for the achievement of strategic direction and goals. Erika has served four Presidents at UM since joining the president's office in 1999. She joined the university in 1987 and began her career at the Law School (1987-1998), before joining the Office of Vice President and General Counsel (1998-2000).
Erika oversees the President's Department and staff, assuring efficiency of office operations and workflow of staff. Relieves president of administrative detail, and coordinates communications, working closely with leadership team. Point person for presidential protocol questions. Schedules and coordinates all meetings of president, determining best use of time. Advises and counsels the president on a variety of matters. Strategically plans and guides events throughout the year. Has responsibility for the budget and finances for the department and prepares annual budget report. Oversees department salaries, special projects, and financing for President's hosting activities and events. Represents the President in internal and external meetings, committees and forums, effectively communicating with a wide range of individuals and constituencies in a diverse community. Reviews all incoming invitations, correspondence, and requests to President. Has responsibility for the President's House events and staff therein.