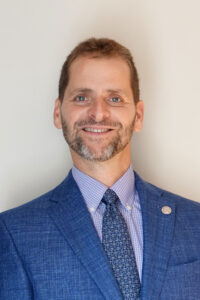 Special Advisor to the President for Carbon Neutrality Strategy
Drew Horning serves as special advisor to the president for carbon neutrality strategy, with responsibility for leading and coordinating the university's efforts to proactively address climate change. He has served in this role since May 2021, during which time the university has made significant strides toward accomplishing its carbon neutrality goals across all emission scope categories (1, 2, and 3), internal leadership structures, campus planning, campus life, and community engagement.
Over the past two decades, Drew has been committed to advancing U-M as a leader in the field of sustainability. In addition to his role as special advisor to the president, Drew is also managing director of U-M's Graham Sustainability Institute, and has served as its interim and acting director for significant periods of time since 2008. Drew served as administrative director for the President's Commission on Carbon Neutrality from 2019-2021, where he worked in close partnership with the co-chairs and had primary responsibility for planning, organizing and codifying the breadth of the commission's work. From 2002 – 2008, Drew was the managing director of U-M's Erb Institute for Global Sustainable Enterprise, a partnership between the Ross School of Business and the School for Environment and Sustainability.
Throughout his U-M career, Drew has collaborated broadly to conceptualize, build, and manage programs that engage, empower, and support faculty, staff, and students from all U-M units, and help to integrate this talent with external stakeholders to foster collaborative sustainability solutions at local-to-global scales. His teaching and research interests focus on leadership development for sustainability and the role institutional structures play in promoting or impeding sustainable behavior.
Prior to joining the University of Michigan, Drew worked in the energy sector, focusing on the commercialization of clean and renewable technologies. He earned an MBA from the University of Michigan Business School (now Ross) and an MS from the School of Natural Resources and Environment (now SEAS). He also holds a bachelor's degree in business economics from the University of Arizona.