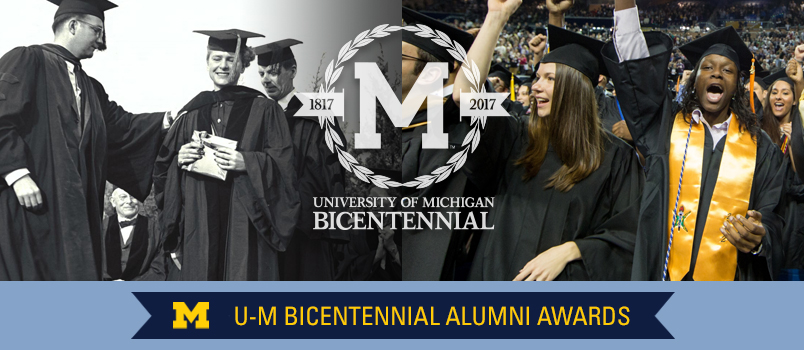 About the Awards
The Office of the President welcomes nominations for the U-M Bicentennial Alumni Awards. Created in honor of the our upcoming Bicentennial celebrations, these special awards are designed to highlight the breadth and excellence of recent alumni, reflecting a desire to acknowledge the University's past contributions and to herald our future achievements and impact. The awards will be granted at both Spring and Winter Commencement in 2017. Ten awards will be made at each commencement — thus celebrating 20 alumni in our 200th year.
The university extends an open invitation to members of the University of Michigan community to nominate exceptional alumni for these awards. The deadline for submissions is December 9, 2016.
UPDATE: Nominations closed.
Announcement of Recipients Coming Soon.
---
"The end of two centuries for the University of Michigan also means
we are beginning a third. The University of Michigan Bicentennial Alumni Awards
give us a very special opportunity to recognize individuals from our more recent past
who can inspire our community through their outstanding ongoing work."
– President Mark Schlissel
---
Criteria and Eligibility
Nominees should be:
Alumni/alumnae who attended the University of Michigan (undergraduate or graduate) not more than approximately 10 to 20 years ago
Strong leaders and representatives of the mission and values of the University of Michigan
Individuals whose achievements carry on Michigan's traditions of intellectual creativity and academic endeavor, of civic engagement, and of national and international service
Recipients are required to be present at a commencement ceremony in 2017.
Individuals previously affiliated with the university in other statuses (e.g., residents, house officers, post-doctoral fellows) are also eligible for these awards.
Current University of Michigan faculty members or other active employees of the university are not eligible.
Recipients of University of Michigan honorary degrees will not be considered for this award.
Nominations of outstanding women, minorities and members of other historically underrepresented groups are encouraged.
These special alumni awards will be the principal focus in our Bicentennial year, although nominations for honorary degrees are welcome to be submitted at any time.  Updates regarding the next honorary degree nomination review period will be available at the Honorary Degree Committee site.
Nominations
Nominations should include:
A concise case for the candidate and their particular appropriateness for this award, given the stated criteria
A curriculum vitae, résumé or other biographical sketch of the nominee
Use of the web form to submit your nomination is strongly recommended.
Self-nominations will not be accepted for consideration.
Inquiries about UBAA nominations can be made to:
U-MBicentennialAlumniAwards@umich.edu
Confidentiality
Nominees should not be informed that their names are being put forward.
Selection Process
The awardees will be recommended to the president by a Selection Advisory Committee, appointed by the president and consisting of representatives from the faculty, the undergraduate and graduate student bodies, the Alumni Association, and the Offices of the Provost, Student Life, University Development and Secretary of the University.