Director of International Programs, Susan Thompson Buffett Foundation
Clinical Professor of Obstetrics and Gynecology, University of Michigan Medical School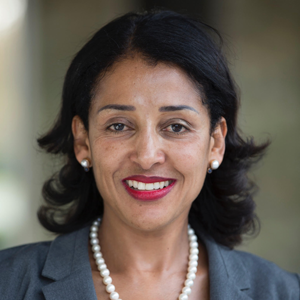 Reproductive endocrinologist and infertility specialist Senait Fisseha is a global leader in expanding access to reproductive health services, especially in developing countries. Dr. Fisseha has overseen international grant making at the Susan Thompson Buffett Foundation to advance women's health and reproductive rights globally since 2015. Born in Ethiopia, Dr. Fisseha earned an undergraduate degree from Rosary College in River Forest, Illinois, M.D. and J.D. degrees from Southern Illinois University, and a certificate in International Human Rights and Comparative Law from the University of Oxford. She completed her internship (2000) and residency (2003) in obstetrics and gynecology and fellowship training in reproductive endocrinology and infertility (2006) at the University of Michigan. As adjunct professor of obstetrics and gynecology at U-M, Dr. Fisseha advocates for training and capacity building in contraception and reproductive health services globally. Previously, Dr. Fisseha was medical director of Michigan's Center for Reproductive Medicine and founding executive director of its Center for International Reproductive Health Training. She helped U-M forge strong partnerships with Ethiopia's Ministry of Health and the St. Paul Hospital Millennium Medical College in Addis Ababa, and was honored by the Ethiopian Ministry of Health in 2013 for her contributions to the health sector. She also is a key adviser to Tedros Adhanom Ghebreyesus, the first African elected director-general of the World Health Organization. Dr. Fisseha has published more than 50 scholarly articles and serves on the board of the Ethio-American Doctors Group. In 2016, the U-M Medical Center Alumni Society presented her its Early Distinguished Career Achievement Award.
For her dedication to improving the health and lives of women and children globally, the University of Michigan presents to Senait Fisseha its Bicentennial Alumni Award.