Singer, Arts Advocate, and Entrepreneur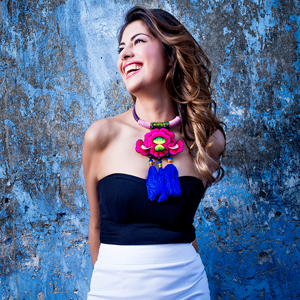 Internationally renowned artist Carla Dirlikov Canales has performed with many of the world's leading opera companies and orchestras and is also known for her achievements as an entrepreneur and advocate for the arts and culture, including her work with the President's Committee for the Arts and the Humanities. Ms. Canales, who was born in Midland, Michigan, to a Bulgarian father and Mexican mother, earned a Bachelor of Music degree (2002) from the University of Michigan and trained at McGill University, the Academy of Vocal Arts in Philadelphia, and the Paris Conservatory. Praised for a voice that "grabs the heartstrings with its dramatic force and musicality," the mezzo-soprano has appeared at Carnegie Hall, The Kennedy Center, Italy's Spoleto Festival, the Glyndebourne Festival Opera, the National Centre for the Performing Arts in Beijing, and the Guangzhou Opera House, among others. Ms. Canales founded The Canales Project in 2016, which aims to give "voice to issues of identity and culture through music and conversation." She was artistic director of programming for the CultureSummit in Abu Dhabi and has spoken at the Aspen Institute, the White House Initiative for Educational Excellence for Hispanics, and the TEDxMidAtlantic conference. Named by the U.S. Department of State as a "cultural envoy," she is the first opera singer to be included in Foreign Policy magazine's annual listing of 100 Leading Global Thinkers. In 2014, she became the first opera singer to receive a Sphinx Medal of Excellence, which was presented by U.S. Supreme Court Justice Sonia Sotomayor.
For her contributions as a performer, entrepreneur, and champion of the arts, the University of Michigan presents to Carla Dirlikov Canales its Bicentennial Alumni Award.