Principal Tuba, Lyn and George M. Ross Chair
The Philadelphia Orchestra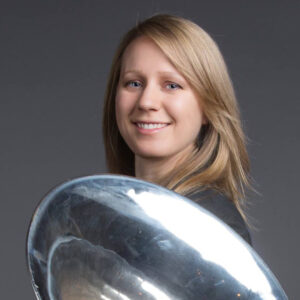 Carol Jantsch, The Philadelphia Orchestra's principal tuba since 2006 and first female tuba player in a major symphony orchestra, is renowned as an orchestral musician, teacher, and soloist. Ms. Jantsch, born and raised in Ohio, began piano lessons at age six, learned the euphonium at Interlochen Arts Camp at nine, grew into the tuba, and returned to the Interlochen Arts Academy for high school. She studied tuba under Arthur F. Thurnau Professor of Tuba and Euphonium Fritz Kaenzig at the University of Michigan, where she earned a Bachelor of Music degree (2006) with highest honors. She released her first solo recording, Cascades, in 2009 and in 2013 premiered Reflections on the Mississippi for Tuba and Orchestra by Grammy-winning composer and U-M Professor of Composition Michael Daugherty. She recorded the concerto with the Temple University Symphony Orchestra and the U-M Symphony Band. She gives solo recitals and has appeared as a soloist with various ensembles, including The Philadelphia Orchestra, Albany Symphony, United States Army Band, and United States Marine Band. She has performed solo works in both chamber music venues at Carnegie Hall and has appeared on the National Public Radio series From the Top and Interlochen Public Radio's Live from Studio A. She has given master classes in Asia, Europe, and North America, and has been a featured artist at brass festivals in Canada, Finland, Germany, and the United States. Among other honors, she received the School of Music, Theatre & Dance Alumni Society Paul Boylan Award, and a "Best of Philly" award from Philadelphia magazine.
For her artistry, full-hearted music, and teaching, the University of Michigan presents to Carol Jantsch its Bicentennial Alumni Award.