Artist, Designer, and Urban Planner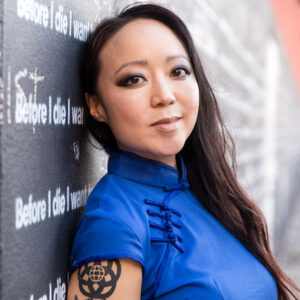 Taiwanese American artist, designer, and urban planner Candy Chang is renowned for her interactive works of art that transform public spaces, spark conversations, and foster community engagement. Ms. Chang, who lives in New Orleans, earned a B.F.A. degree (2001) in graphic design and a B.S. (2001) in architecture from the University of Michigan and a M.S. degree in urban planning from Columbia University. Using chalk and other everyday materials, Ms. Chang melds social activism with creative placemaking and encourages others to use public spaces to voice their opinions. Following the death of a loved one, she created Before I Die (2011), a public art project on an abandoned house in New Orleans, and invited others to share their aspirations in that public space. Since then, more than 2,000 Before I Die walls have been created in over 70 countries, including Argentina, China, Iraq, Kazakhstan, Russia, and South Africa. She has completed public projects in Hong Kong, Las Vegas, and New York City, and has exhibited in the Venice Biennale, the Cooper-Hewitt, Smithsonian Design Museum, the San Francisco Museum of Modern Art, and the Tate Modern in London, among other galleries and museums. She received the American Academy of Hospice and Palliative Medicine Humanities Award and the Tony Goldman Visionary Artist Award in 2016, and Impact Design Hub named her one of the top 40 leaders under age 40 in design. She previously was recognized as a TED Senior Fellow and World Economic Forum Young Global Leader.
For her creative reimagining of public spaces and contributions to the social good, the University of Michigan presents to Candy Chang its Bicentennial Alumni Award.