Vice President, Amazon.com, Inc.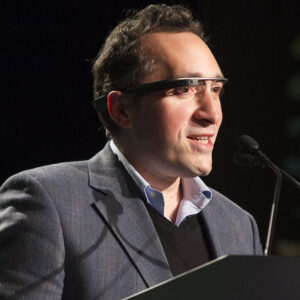 Electrical engineer and Google Glass creator Babak Parviz is widely recognized for revolutionizing communication technology through advances in optics, self-assembly, and miniaturized electronics. Dr. Parviz, who lives in Seattle, holds a B.S. degree in electrical engineering from Sharif University of Technology in Tehran and a B.A. in literature from the University of Washington (UW). He studied micro-electro-mechanical systems at the University of Michigan, where he earned a M.S.E degree (1997) and Ph.D. (2001) in electrical engineering and a M.S. degree (2001) in physics. He completed a postdoctoral fellowship at Harvard University in chemistry and chemical biology and developed self-assembly techniques to fabricate nano-scale devices and systems as a UW faculty member. He continues to serve as an affiliate professor in UW's Department of Electrical Engineering. In 2010, two years after developing a bionic contact lens prototype, he joined Google, where he initiated and led the Glass project until 2013. He also founded Google's robotics surgery initiative, which became Verb Surgical, an independent company, and co-founded Google's Smart Contact Lens program. Dr. Parviz joined Amazon in 2014, and, in 2015, was elected a SPIE fellow by the International Society for Optics and Photonics. He has received many accolades, including Time magazine Best Inventions of the Year honors in 2008 and 2012, the Institute of Electrical and Electronics Engineers Circuits and Systems Society Industrial Pioneer Award, Design News Golden Mousetrap Lifetime Achievement Award, National Science Foundation Career Award, and U-M College of Engineering Alumni Society Merit Award in Electrical and Computer Engineering.
For his pioneering technological innovations that augment human potential, and thus improve peoples' lives, the University of Michigan presents to Babak Parviz its Bicentennial Alumni Award.