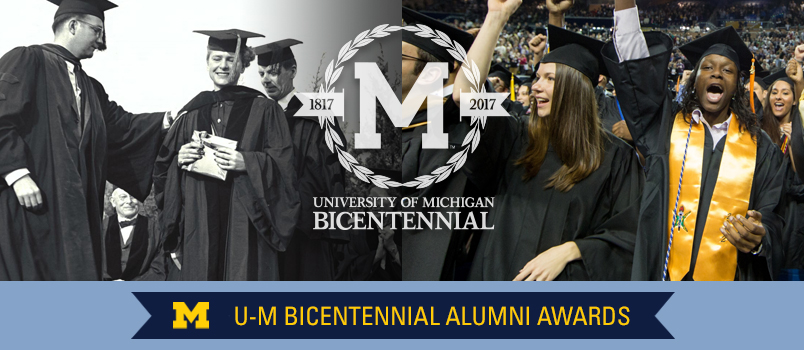 ---
"The end of two centuries for the University of Michigan also means
we are beginning a third. The University of Michigan Bicentennial Alumni Awards
give us a very special opportunity to recognize individuals from our more recent past
who can inspire our community through their outstanding ongoing work."
– President Mark Schlissel
---
The U-M Bicentennial Alumni Awards—established exclusively for the 200th year of the university—highlight the breadth and excellence of recent alumni, and reflect a desire to acknowledge the institution's past contributions while heralding its future achievements and impact. The awards will be presented at both Spring and Winter Commencement in 2017. Ten awards will be bestowed on each occasion, honoring a total of 20 for the 200th.
Spring honorees will receive their awards at commencement on Saturday, April 29. Winter honorees will receive their awards on Sunday, December 17. Please join us for a commencement celebration and opportunity to meet spring honorees on Friday, April 28 at North Ingalls Mall at 2:00 p.m. Learn more at commencement.umich.edu/celebration.
The selection criteria used to guide nominators in their efforts included the university's desire to recognize alumni "whose achievements carry on Michigan's traditions of intellectual creativity and academic endeavor, of civic engagement, and of national and international service." The potential recipients were recommended to the president by a Selection Advisory Committee, consisting of representatives from the faculty, the undergraduate and graduate student bodies, the Alumni Association, and the Offices of the Provost, Student Life, University Development, and Secretary of the University.